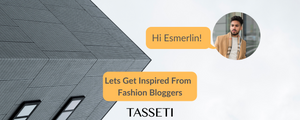 Let's Talk About Fashion Blogging With...Esmerlin
Interview With Blogger
Esmerlin Villanueva

Tell us about yourself...
You can call me Esmerlin Nova. I'm a 23 years old fashion blogger. I live in Belgium but I'm originally from the Dominican Republic. My passion in life is fashion and photography. 

What made you start writing blogs?
As I said earlier I really like fashion, photography and posing in front of a camera. But I also like helping others specially with their fashion issues. For me becoming a fashion blogger was the best way to mix all of those things together. That way I may help people with their looks and also enjoy while helping and sharing with other people.
Considering your experience, what actually it takes to become a blogger? What sacrifices you had to do? What's the hardest thing about being a blogger?

I think that the most important thing to become a blogger is to never give up. At first, specially when you start, you have the impression that everything goes so slow but with patience, the attitude to never give up and be really active, you can become that person you're aiming to become. The only thing I sacrificed is money to buy clothes, camera, etc and maybe time but in life, nothing comes without a price. And since those are things that I already liked, I don't see them as a sacrifice. For me, the hardest thing is to not give up at first, specially at the beginning. Because in the beginning, you really have the impression that you are not moving but trust me, you are. Every effort you do will pay you back. Continue until you become that person.

Do you have role models? If so, could you tell us who represents an inspiration for yourself? 
I have multiple role models but I like specially too of them. Rowan Row (@rowanrow) for his style and the place I see myself in 5 years and Okan Arslan (@mr.okan) for his ambitions in life. Both are my role models.
What's your biggest goal as a blogger?
My biggest goal is to archive a certain place in this blogger industry but most importantly, be able to actually help others with their fashion issues. That they can come to me for advice or any questions about fashion, blogging, etc
If you can share one tip for someone who also wants to start writing blogs, what would it be?
Go for it! What are you waiting for? And please never give up!
Esmerlin, we really appreciate that you accepted to join our interview. Do you want to mention anything else?
Thanks for this opportunity. You guys are amazing! And I love your products!


Thanks for this awesome interview!
If you want to say Hi to Esmerlin Villanueva, you'll find his blogs and Instagram page below!


---